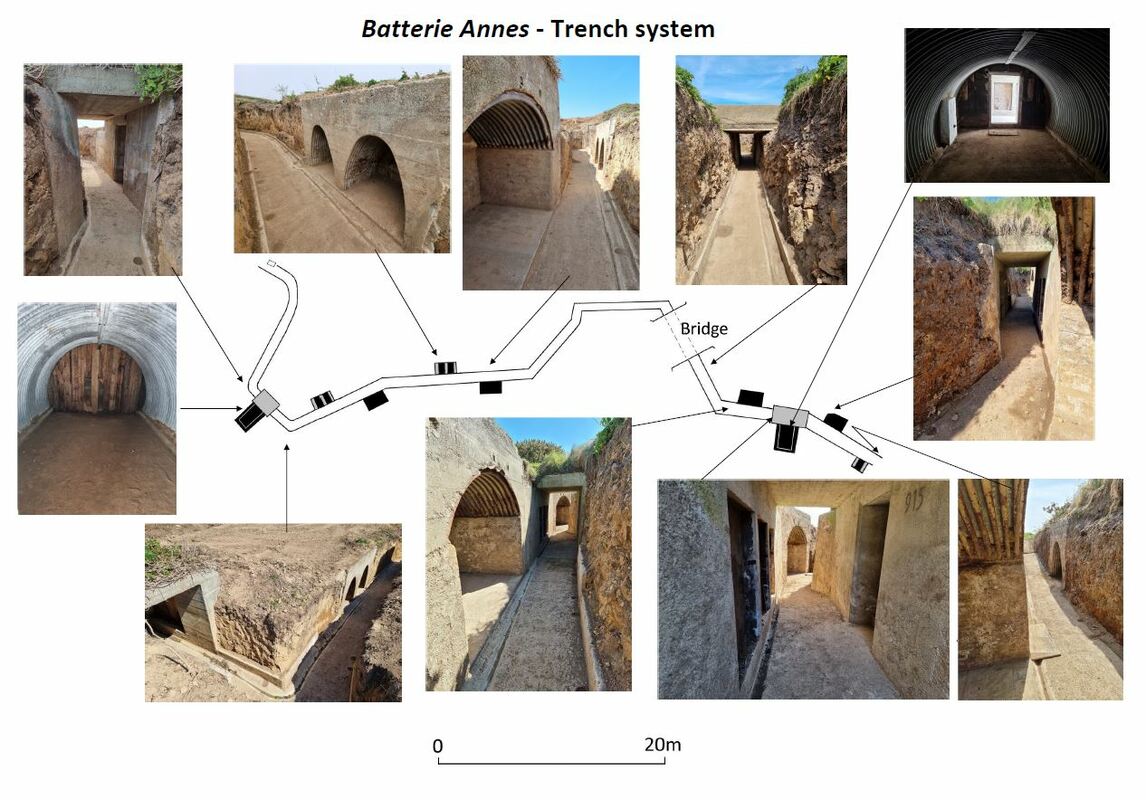 At the south end of Alderney in the Channel Islands, above a coastal cliff, are the remains of the German WW2 Battery Annes, for four 15-cm guns.
There is a trench the top of which was until recently only just visible in a couple of places and is visible on the 1945 aerial photos (see plan where it is outlined in red). The new owners have been clearing it with a digger and bulldozer.
The trench is more than 100m long, quite wide, has a concrete floor throughout with water runnels and a drain at each end; the sides were supported by concrete slabs and wooden props which were removed in 1946. I have measured it up and drawn it - my draft plan and pics (up to recently) are attached. It is the only one of this kind and size/dimensions that I have ever seen on Alderney.

(In addition, they are cleaning out the entrances and inside of two of the gun pits, two of the M151 personnel shelters (see the two minimized pics attached) and the M131 generator bunker - all in excellent condition; and the small fire trench by the ruined Leitstand shelter).

This raises a couple of questions:
As the trench is not connected in any way to the 15cm gun pits then, knowing that the two larger wellblech shelters in the trench (more-or-less at either end - see photos on plan) were listed for ammunition, I wonder what ammo they contained. In addition what were the five associated shallow–depth, half-size, Siegfried shelters and the four semi-circular, also shallow, slightly larger wellblech shelters for? Almost certainly not for personnel.
There is a suspicion the trench might be linked to a previous Army battery on the same site for two 15cm K18 towed guns (French) – nothing remains of the two emplacements. These guns were used in many locations in German-occupied countries; do the same arrangements appear elsewhere?
If the whole 11 smallish bunkers were for ammo (?) then of what type? For the battery's secondary armament perhaps . . . ? Or what else could they have been for?
It seems most unlikely that they were for ammo for the SK C/28 guns as there are two M145 ammo bunkers and large spaces for ammo storage in the gun pits.
It's a mystery to me and any suggestions would be very welcome.
Likewise with the strange concrete pedestal with what appears to be some sort of spindle mounting. Is it German? What was it for? It's 2m high and was just dumped in the back-fill of a personnel shelter.

Charles Blackwood, for Trevor Davenport, Alderney. [email protected]

Please post responses on Website FORUM. Thank you.